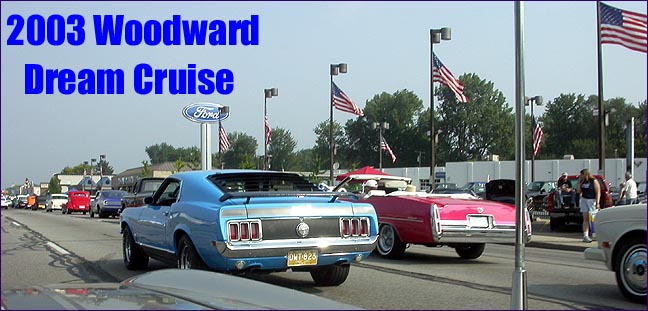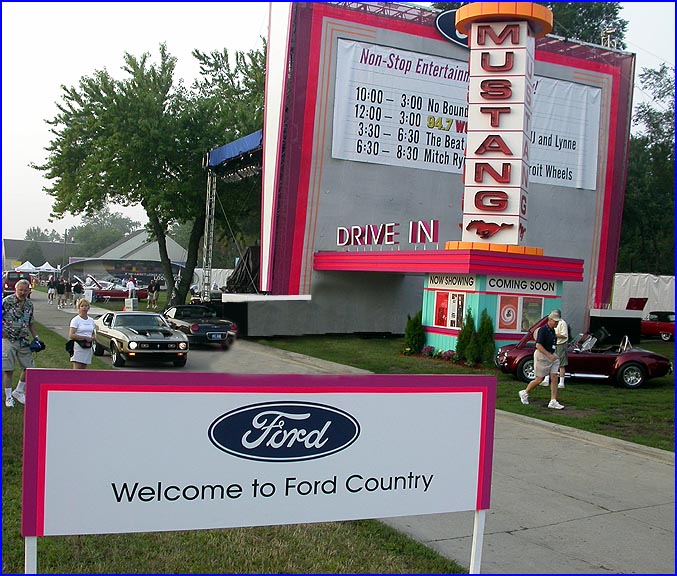 For those not familiar with it, the Woodward Dream Cruise is the world's largest Car Show and Cruise. It takes place along Detroit's famed "Woodward Avenue" - a stretch of highway made famous by Detroit cruisers in the 50s, 60s and 70's. This cruise has occurred annually (as an official event) in the Detroit area for the last 19 years and keeps getting bigger every year. This was my first time ever to attend. My friend and fellow 429 Group member Art Richardson took my Mustang down on Saturday, August 18th and took the photos below;
The Cruise
The two photos above left are of Ford Motor Company's display. Note the cool mural and the "Mustang Drive In. 3rd photo from left - a giant "Brand X" banner was draped over 10 stories of a building along the cruise. Remaining photos - sights and cars we saw during the cruise. Note the Yenko Nova. The driver told us only 70 were made. Enjoy!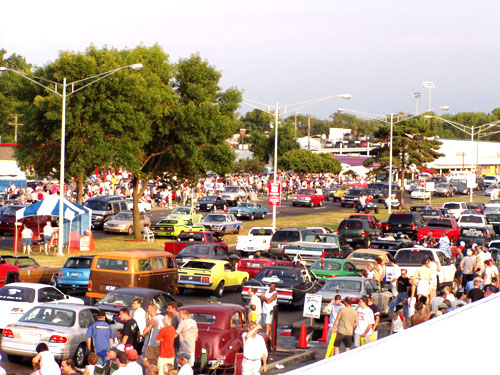 Local Mustang Club Cruise-In
Our local Mustang Club has a neat deal with an appliance store along Woodward where we can park our cars in their lot. A nice variety of Mustangs were there and great hospitality from our club.
Mustang Alley
Ford SVT and the city of Ferndale set up a special place to display Mustangs on their main street that crosses Woodward Ave - they called it Mustang Alley. Supposively, this was an invitation only event, but we pulled up with my Mustang and were allowed in. Many cool Mustangs and a special event - a meeting of the Yellow Mustang Registry.
No - this isn't my car (1st photo on left). It is a twin! A 351 car driven in by a fellow and his wife from Canada. My car is pictured in the remaining photos in the row though.
All in all, the Woodward Dream Cruise was an awesome event. I plan on attending every year from now on:-)