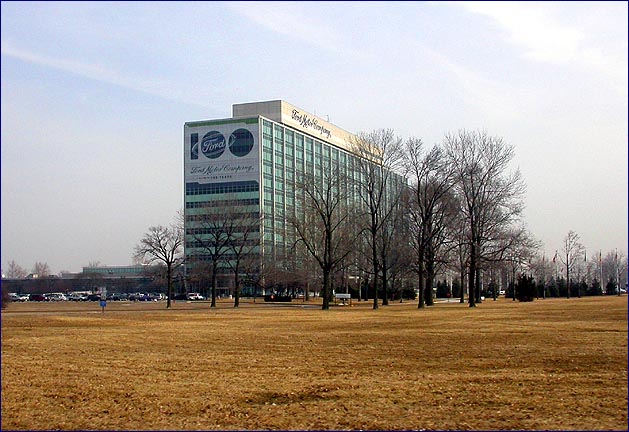 In addition to being in our 71 429 Mustang/Cougar Group, member Art Richardson and I also belong to our local Mustang club - The Mustang Owners Club of Southeastern Michigan (MOCSEM). Being so close to Ford Motor Company, our club was asked if we could provide 10 Mustangs for Ford's Centennial Lobby display at the World Headquarters Building. Art and I were honored that our cars were chosen along with 8 others from MOCSEM to be part of this display. Please enjoy the photos below!
Here is a copy of the note Ford sent out to notify their employees of the Mustang display;
(Note: Click all images to enlarge)

Transporting the 71's to Ford World Headquarters
Art and I trailered or cars to Ford WHQ. Although most Michigan roads were dry, there were still lots of salty puddles to avoid.
Once we drove into the executive garage, we were met by Tony, Bob and Nina, who were handling the display for Ford. It just so happened that Art's car was backed into a spot labeled "Reserved 71".
Pictorial on Art Richardson's 71 Boss 351
Art's car began life as a Ford Test car (as evidenced by the Marti Report and labeling still on the car). Art reproduced the Test car number and placed it on the rear view mirror as it would have been originally.
Pictorial on John Blair's 71 429 SCJ Mach 1
Pictorial on other Mustangs on display from the Mustang Club of Southeastern Michigan
Other Vehicles on Display
Ford also had their historic 20 Millionth and 100 Millionth cars on display - a 1931 Ford and a 1978 Fairmont.
Thanks to Dale Rabe of MOCSEM and Nina at Ford for allowing us to be part of this display.