Home
Ford WHQ Show
429's at Milan Dragway
2002 Florida Pony Trail
2002 Michigan Pony Trail
2001 Florida Visit
Jim Scott's 429 Grande
Ford Centennial Mustang Display
2003 Florida Pony Trail/Car Show
Northwest Roundup 2005
429's on Maui
Dearborn Assembly 100th
Ford 100th
Carlisle Nationals
Fred Coyner's SCJ Mustang
Car of a Hero
2003 MCA Show
Fall in the Park
Bruce O'Connor's 429 Mach 1
2004 Florida Pony Trail
Mark James 429 Convertible
Mark Bondy's 429 CJ Mach 1
Dan Schott's 73 Convertible
Mustang 40th 429 Group Photos
Mustang 40th Anniversary
Down River Cruise 05
429 Convertibles
2005 Mustang
Ulf Jonsson's 429 CJ
Fall 2004
429 Cougar & Mustang Convertible
Don Brasier's 429 CJ Cougar
Don Cook's Mach 1
2003 Woodward Cruise
2004 Woodward Cruise
2005 Woodward Cruise
2006 Woodward Cruise
2007 Woodward Cruise
2008 Woodward Cruise
2011 Woodward Pre-Cruise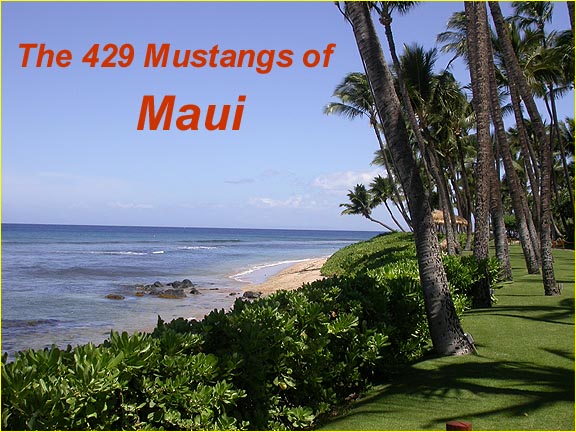 Coincidently, 429 group member Dan Schott and his wife were going to Maui for vacation the same time as my family. Being big Mustang fans, Dan and I decided (just for grins) to see if one of the car rental companies that claimed to have classic cars for rent had any vintage Mustang's available. We were surprised to find that they just happened to have two original 71 429 Mustangs for us! As it turned out, actor Jack Lord, (aka Detective Steve McGarrett), the former star of the television show "Hawaii Five-O", had been a big time collector of classic cars at his home in Hawaii until his death in 1998. His entire car collection, tied up in probate until recently, had just been purchased by the "Classic Car Rental Company" in Hawaii, and Dan and I were the first ones to get to rent Jack's two 429 Mustangs! Dan and I decided to photograph the cars at the various sight seeing locations we visited while at Maui for a 429 Special Topic story. Just a bit off-topic, but what the hey? Enjoy!
John Blair
429 Webmaster
Big Beach
This is one of the more remote beaches on south Maui, called "Big Beach". It was originally called Oneloa Beach, but became very popular with the hippy crowd from the mainland in the late '60's and early '70's, who dubbed it "Big Beach". Many set up squatter type camps here but were finally cleared out when Hawaii declared the beach part of a state park in 1972. Today it's a popular site with Boogie Boarders. The sand was the goldest sand I have ever seen and the water was turquoise.
Black Sand Beach
This is the Black Sand Beach at Wai'anapanapa State Park (say that 10 times fast!). The black sand was formed when lava flowed into the sea in this area, shattering on contact with the ocean water. The resulting fragments were pulverized by the waves over hundreds of years to form the unusual black sand.
Northwest Coast Region
Maui's Northwest coast has no significant beaches. It is mostly high cliffs with a very rocky coastline. This is an extremely windy area as the air coming in here has been blowing, uninterupted, for several thousand miles over the Pacific Ocean. It is said in travel books that this is the cleanest air in the world.
Haleakala Crater
Like all Hawaiian islands, Maui was formed by volcanos. Luckily, all volcanos on Maui are now dormant (unlike the Big Island, where volcanic action is still underway). The main volcano that formed Maui is called Haleakala and is 10,323 feet high. We were able to drive to all the way to the summit on an extremely winding road. Once at the top, you can peer down inside the Crater. It looked like we were on another planet. The rarified air up there at the summit made for tough breathing.
Waterfalls
There are hundreds of waterfalls on the island, primarily because of the huge amount of rainfall the island gets. The other large volcanic mountain on Maui, Pu'u Kukui, is one of the wettest places on Earth receiving over 360" of rain a year. The rainstorms stay mainly in the center of the island near the mountains. We didn't have one rainy day at the beach the whole time we were there. The waterfalls were really scenic - like something you'd see on a postcard.
Road to Hana
One of the "must do" items on every Maui tourist's agenda is to drive the famous "Road to Hana" This is a 54 mile long stretch of one and two lane highway with over 600 hair-pin turns that snakes it's way through the highly tropical, rain forested Northeast coast of the island. This drive has waterfalls, tons of lush tropical vegetation (often covered with brightly colored flowers) and awesome views of the Pacific Ocean.
Fish
The Maui Ocean Center has a great setup where you can view the sorts of fish found in the surrounding waters.
As with all vacations, they must come to an end. Our 429 Mustangs had served us well, but now the time had come for John and Dan to turn them in and head back to reality in Michigan :-(
Aloha!