Home
Ford WHQ Show
429's at Milan Dragway
2002 Florida Pony Trail
2002 Michigan Pony Trail
2001 Florida Visit
Jim Scott's 429 Grande
Ford Centennial Mustang Display
2003 Florida Pony Trail/Car Show
Northwest Roundup 2005
429's on Maui
Dearborn Assembly 100th
Ford 100th
Carlisle Nationals
Fred Coyner's SCJ Mustang
Car of a Hero
2003 MCA Show
Fall in the Park
Bruce O'Connor's 429 Mach 1
2004 Florida Pony Trail
Mark James 429 Convertible
Mark Bondy's 429 CJ Mach 1
Dan Schott's 73 Convertible
Mustang 40th 429 Group Photos
Mustang 40th Anniversary
Down River Cruise 05
429 Convertibles
2005 Mustang
Ulf Jonsson's 429 CJ
Fall 2004
429 Cougar & Mustang Convertible
Don Brasier's 429 CJ Cougar
Don Cook's Mach 1
2003 Woodward Cruise
2004 Woodward Cruise
2005 Woodward Cruise
2006 Woodward Cruise
2007 Woodward Cruise
2008 Woodward Cruise
2011 Woodward Pre-Cruise
---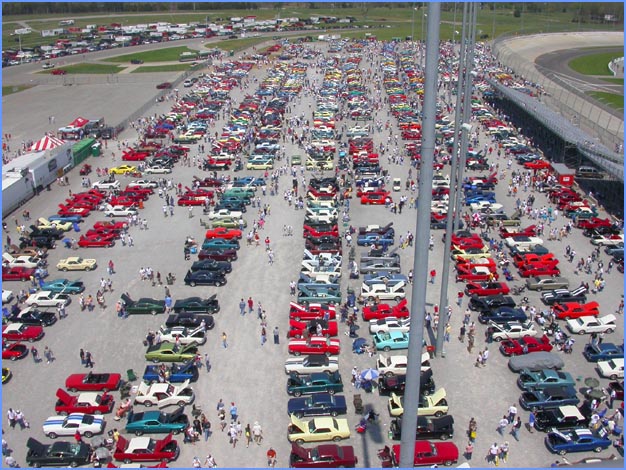 The Mustang 40th Anniversary took place April 15 - 18th, 2004 in Nashville, Tennessee at the Nashville Super Speedway and members Art Richardson, Rich Pajzer and I drove down from Michigan to take part. It was an incredible event with around 4000 Mustangs in attendance. Lots to do with so many cars (both vintage and late model) to look at, a big swap meet, vendor displays with new products, Ford Motor Company on hand with historical and new cars, Mustang celebrities, and track events featuring Mustangs of all years! No less than 20 members from our group were in attendance, a number with their cars. We also had our first ever group meeting on Friday night with special guest Jeff Ford, editor of Mustang & Fords magazine there to enjoy a pizza dinner with us. Check out the photos below to get an idea of what it was all like!

John Blair 4/29/04
Also, check out the 429 Mustang Nashville Group Photos at this link: Mustang 40th Group Photos
Note: Click photos to enlarge
Thursday, April 15th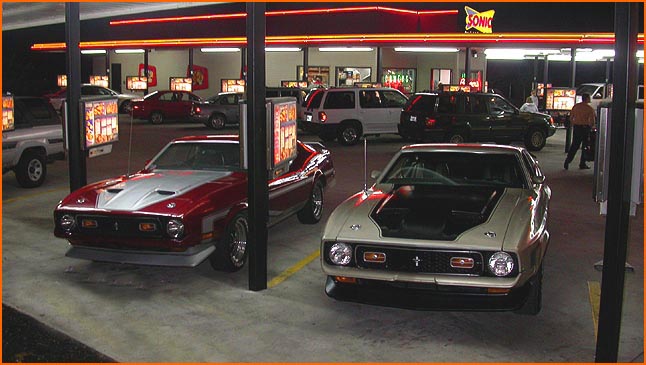 This was our first view of the Nashville Super Speedway. It is a huge complex, just built in the last couple years on some open land about 30 miles east of Nashville. The registration was well organized and it was fun to go through our short wait in line with all different years of Mustangs. They had stowage and unloading for car trailers, which we did, then joined the large row of 71 Mustangs on the show field.
Jimmy Bennick arrived Thursday afternoon after losing a trailer wheel in the mountains and having to stop to get a new one. Thursday evening was the big cruise in downtown Nashville. We took my and Jimmy's Mustangs, but it was so crowded, we broke off to do our own cruise at the Sonic Drive-in. A good time was had by all!
Jimmy/Rich/Bruce
Friday, April 16th



The swap wasn't as big as a Columbus or Carlisle, but it was of respectable size. We spent quite a bit of time going through it and I got some pix of items I wanted for the 429 Megasite parts pages. It's always a blast to look through everything!





There were so many thousands of cars, I really couldn't figure out which ones to take pictures of. I have hundreds of pix, but here's just a few samples.


429 Group Meeting


Jimmy Bennick pointing the way to our 429 Group Meeting.




Front Row - Robert Myhrer, Dana Chetum, Jeff Ford, John Blair

Back Row - Rich Pajzer, Dave Rowland, Jerry Bryant, Mark Taylor, Jimmy Bennick, Bruce O'Connor, Miles DeCoste, Ken Macmillan, Lisa and Jim Newman
Friday night was our first ever 429 Group meeting. Art made arrangements for us to get the meeting room at the Marriot we were staying at and we ordered a bunch of pizzas to munch on. Rich brought a copy of the original "Gone in 60 seconds" with the 73 Eleanor Mustang. We watched the chase scene with our pizza, then put in the tape of my car, Dan Davis's 429 Cougar and Dan Schotts 73 429 CJ Convertible at Milan Dragway. Our special guest, editor Jeff Ford of "Mustang & Fords" magazine shared our pizza with us and kept us all laughing. After dinner, we went around the room and each person talked a little about their Mustang. It was really a pleasure for me to meet everyone in person and I hope we can do something like this again at a future show.

Saturday, April 17th



The car Bruce is standing next to is a 71 429 Mustang from Australia that was brought over to take part in a cross country Mustang drive. We were never ever able to locate the owner. The rest of the pix are of cars from my wanderings around the show.




Saturday night we had dinner at a local establishment called "Bar-B-Cuties". They had great sandwiches and the bannana pudding for dessert was great!

Sunday, April 18th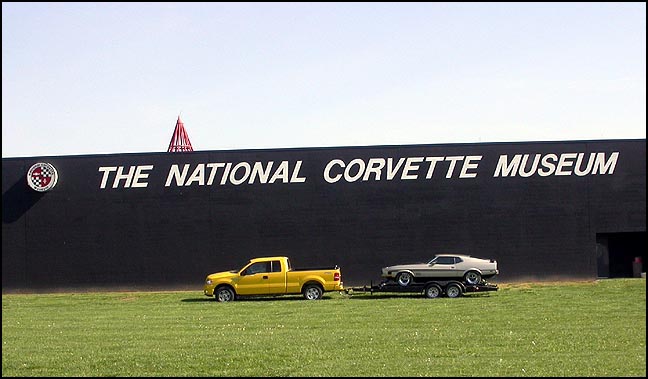 I had to be back at work Monday so we had to leave Sunday morning. Bruce joined us for breakfast and helped us load up. As we went through Bowling Green, Kentucky, we couldn't help pulling off to swing by the Corvette Museum for a photo op! I know my panorama above doesn't match up real well, but I wanted to show the strange yellow gizmo with the red pokey thing sticking out of it. Not sure what that was all about but I guess it looked dramatic? Anyway, took about 10 hours to get home. Dropped off Art at his house and Rich helped me unload at my house and left right away for New Hampshire. We had a whirlwind 4 days but it was an outstanding time!

Track Photos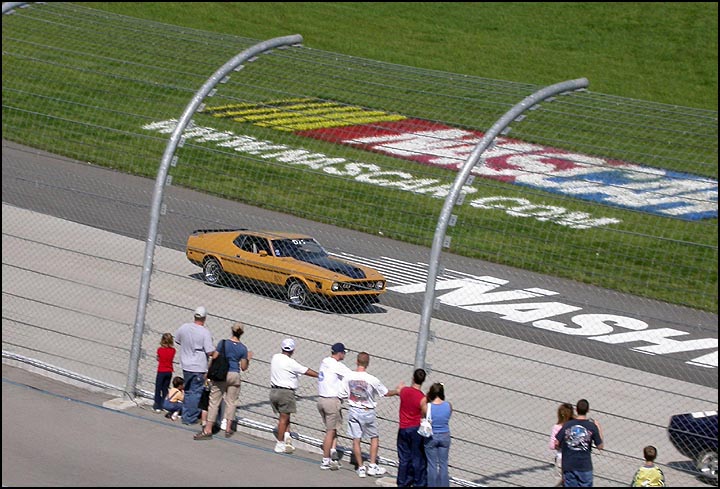 The photos above are all of group member Jerry Bryant's 429 CJ Mach 1 doing laps on the super speedway. It was really neat to see one of our 429 cars out there!




I took lots of pix of cars on the track - here's a couple I liked.

Panoramas
The track and grounds were so huge, I took some panorama shots to give a sense of just how big it all was and how many cars were on hand.




Various shots of the showfield and track. 3rd photo from right shows the 71 - 73 section of the showfield.



The vintage Mustangs were located east of the grand stand and the late models were on the west side (note the Yellow Mustang Club and the dark ones are Bullits). These views from the stands show how big the show was - Mustangs stretched out nearly to the horizon in both directions. All concours cars were set up under the grandstand to provide shelter from the elements. One of the few negatives of the show - the vintage cars were set up on a dusty gravel parking lot.


This photo was taken Thursday before there were very many cars. The same lot was nearly full on Saturday.


There was no way I could fit the track all in in one photo so I did the best I could piecing these pix together!

Group Member Photos
Lots of group members attended the 40th. We were never in one place all at once so I tried to take pictures when I could, but I still might have missed a few!

Mike Berardi and Bruce O'Connor

John B, Jerry Ostalecki, Rich Pajzer, Robert Myhrer, Bruce O'Connor

Leon Grice

Jerry and Joe Bachinsky, Bob "Boss" Wilson, Art Richardson

Bruce O'Conner, Rich Pajzer, John Blair, Jerry and Joe Bachinsky, Dave Rowland

Our new member from Australia John Smith standing next to long time Aussie member Bruce O'Connor. The white Mach 1 at right is a photo I took of a picture John had of his 429 Mach that is back in Australia.
Group Member Cars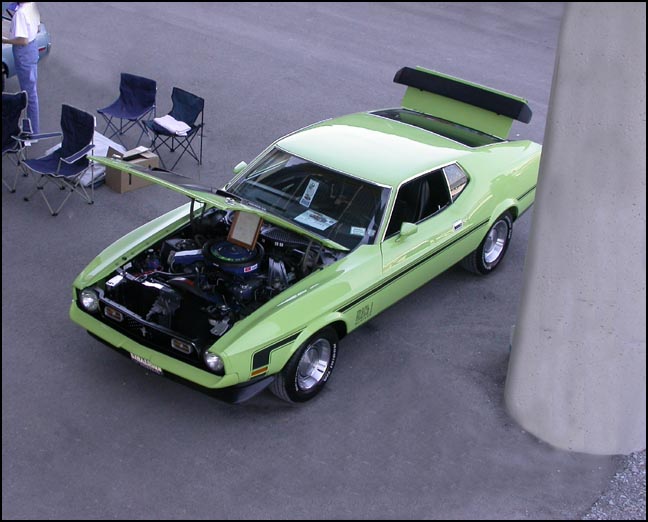 Doug Wolf's 429 SCJ




Jerry Bryant's 429 CJ



Jerry Ostalecki's Boss 351


Bob "Boss" Wilson's concours Boss 351



Jimmy Bennick's 429 CJ






Miles DeCoste's concours 429 SCJ



John Blair's 429 SCJ