Jim Scott's 429 CJ Grande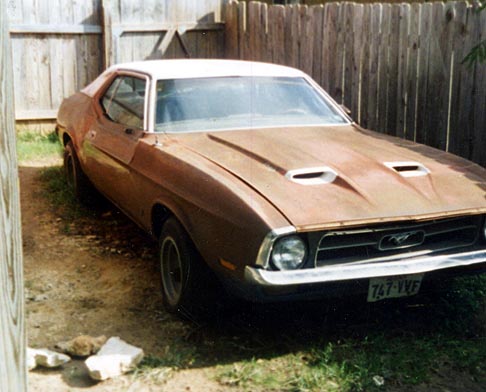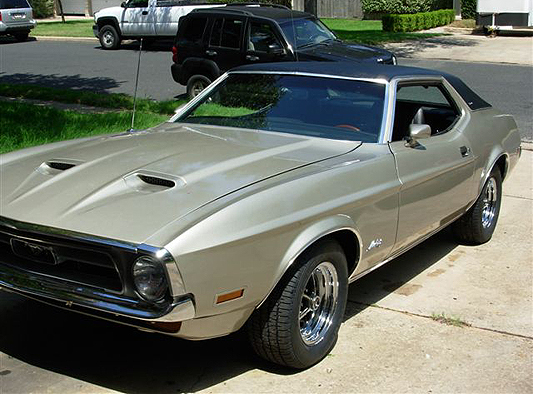 Jim's car in the condition he purchased it (left) and his completed restoration (right). Great job, Jim!
Completed restoration photos of Jim Scott's 429 CJ Grande - 8/10/06
Engine before and after!
*****************************************************************
Updated Photos of Jim Scott's 429 CJ Grande - 5/26/04
Here are the latest pictures from Jim showing the latest progress on his car.
******************************************************************
******************************************************************
My 429 CJ Grande
By Jim Scott
Having owned a 1965 Fastback Mustang since 1984, I have been interested in Mustangs in general. Back in 1994 a co-worker told me of a 429 Mustang some guy had and only wanted $500 for it! At that time I had only heard of Boss 429's, so I got real excited and interested. I went to look at the car. It was out in the country on a hillside. As I was walking toward it I saw a 1971-1973 looking coupe, and thought to myself, "What the heck is this? It can't be a Boss 429. Upon closer examination of the VIN, I researched what the "C" code was for a 1971. I found out it was a 429 Cobra Jet. I did not know Ford even had such an engine. I knew of 428 Cobra Jets. I thought this has got to be very rare, because they probably would have put most of these engines in Mach 1's, not a "grandma, luxury" type Mustang Grande. So I figured it was definitely worth $500, even with all the work it was going to need. The floor pans needed replacement, both quarters needed repair, tail light panel replacement, even had to repair and replace sections of the "swiss cheese top. Of course the engine needed to be rebuilt. I even had the front of the unibody straightened.
I have rebuilt the engine, redone the suspension, done most of the metal work. The body work needs to be finished off, transmission needs to be rebuilt, and I plan to put a Power Trax positraction in the rear end. All the work is to be done by me except shooting the paint and the tranny. I don't know if I will make it, but my plan is to have it done next Spring.
Engine: has .030 over forged TRW pistons
Cam Research cam: Lift, intake: .525 Exhaust .530
Advertised duration: intake 291 exhaust 295
Duration @ .050: intake: 230 exhaust 235
Lobe separation: 110
Stealth Intake Manifold
Thanks for your help and interest.
Jim Scott
P.S. I also have a 1971 Grande with a 351C.
(Note from John Blair - I'll be updating this story with new pictures from Jim when he finishes his car!)