Home
Ford WHQ Show
429's at Milan Dragway
2002 Florida Pony Trail
2002 Michigan Pony Trail
2001 Florida Visit
Jim Scott's 429 Grande
Ford Centennial Mustang Display
2003 Florida Pony Trail/Car Show
Northwest Roundup 2005
429's on Maui
Dearborn Assembly 100th
Ford 100th
Carlisle Nationals
Fred Coyner's SCJ Mustang
Car of a Hero
2003 MCA Show
Fall in the Park
Bruce O'Connor's 429 Mach 1
2004 Florida Pony Trail
Mark James 429 Convertible
Mark Bondy's 429 CJ Mach 1
Dan Schott's 73 Convertible
Mustang 40th 429 Group Photos
Mustang 40th Anniversary
Down River Cruise 05
429 Convertibles
2005 Mustang
Ulf Jonsson's 429 CJ
Fall 2004
429 Cougar & Mustang Convertible
Don Brasier's 429 CJ Cougar
Don Cook's Mach 1
2003 Woodward Cruise
2004 Woodward Cruise
2005 Woodward Cruise
2006 Woodward Cruise
2007 Woodward Cruise
2008 Woodward Cruise
2011 Woodward Pre-Cruise
---
Carlisle Ford Nationals 2003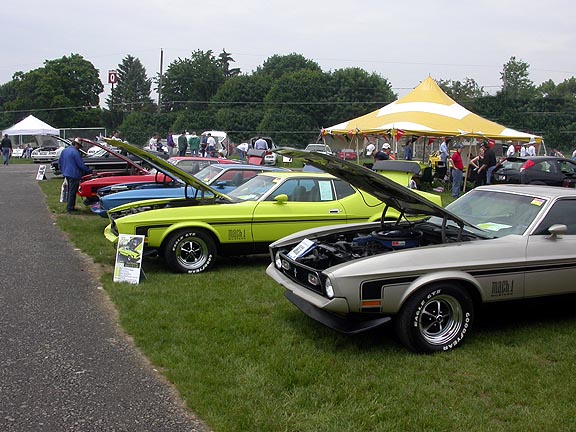 This was my first trip out of state to a car show and I decided to take my Mustang since this was the "Grand-Daddy" of all Ford shows - The Ford Nationals! 429 Group member Art Richardson and I drove the 460 mile trip from Michigan to Carlisle, PA. on Friday, weathering a near collision with a deer on the Ohio Turnpike, a flat tire on the car trailer along the Pennsylvania Turnpike and some wild trailer swaying going through the mountains, arriving about 5:00 PM Friday night. We got the car set up and promptly met group members Joe and Jerry Bachinsky, who had spent the day at the show. We packed up for the night and woke up Saturday to a gray, rainy day, with a few periods where the rain stopped (and the sun actually broke out once for about 10 minutes before the clouds rolled in again). Then, rain pounded the show and Swap Meet mercilessly for most of the rest of the afternoon, chasing away most of the show cars. Despite the rain, here's a few of the highlights;
Ford Vice President Jay Mays unveiled the 2005 Mustang concept car on the stage in front of the Grand Stand.

The new Ford GT40 and 427 Coupe were on display in one of the buildings.

A historical gathering of over 20 1963 Lightweight 427 Galaxys was on display.

Bill Shenk, Torino Designer, was on hand to sign autographs and talk with enthusiasts.

The biggest Swap Meet I have ever seen. Even the rain wasn't a problem as most people had tents and we bought ponchos. Nice selection of 71 - 73 Mustang parts. Very few 429 CJ/SCJ parts. I was keeping my eyes open for a heat shield.

My Mustang was the only 71 429 in attendance (maybe others would have been there if not for the rain?), but a number of really nice 71 - 73's and three Boss 351s were there. The Torinos were well represented as well.
John Blair
71 - 73 Mustangs and Cougars
My car and the other 71 - 73s. I took these pix during the few minutes the sun came out. Only a couple 71 - 73 Cougars were in attendance - neither were 429 cars.
71 Boss 351s

The Light Pewter Metallic Boss was a concours car. I took lots of pix of the engine compartment for our group to review. The Medium Yellow Gold car is a very unusual color - I've only ever seen two other '71s like it.
The Torinos
Specialty Cars
The 2000 Cobra "R" and 1963 427 Lightweight Galaxys.
The Chassis Dyno
The portable Chassis Dyno was on hand for those who wanted to try out their cars. I seriously thought about running my car on it. Since I have the engine dyno numbers for my engine, it would have been interesting to get the Chassis dyno numbers to see exactly what the losses are going through the powertrain. Another idea sidelined by the rain...
Late in the day, a 71 302 car got on for a spin as well as a Cobra replica.
Cars in the Car Coral
Beautiful gold '72 R-code Mach 1, '70 428 Hard Top, Outstanding Super CJ Cyclone Spoiler (would be in my garage in a heartbeat if I won the Lotto!)
The Swap Meet
429 Group member John Foos and friends had set up a big tent in the swap area. Art and I had a great time visiting with John and appreciate him letting us use his swap area as a temporary storage depot for all the parts we kept buying. The photo at center is an example of some of the goods on display. At right is what the swap area looked like after getting pounded with rain all afternoon.
Overviews of Carlisle

Packing up and the trip Home
I thought it would be interesting to get a few shots in the tunnel!

And what road trip would be complete without a stop at Hooters ;-)