---
9/6/08 - Photo Shoot of Mark's Completed car. Congratulations on an outstanding job, Mark!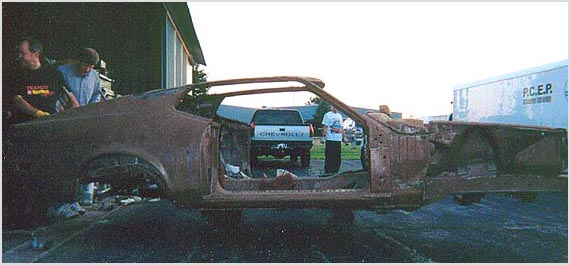 Mark's car when he first got it in 2001 (above) and as it appears today in 2008 (below).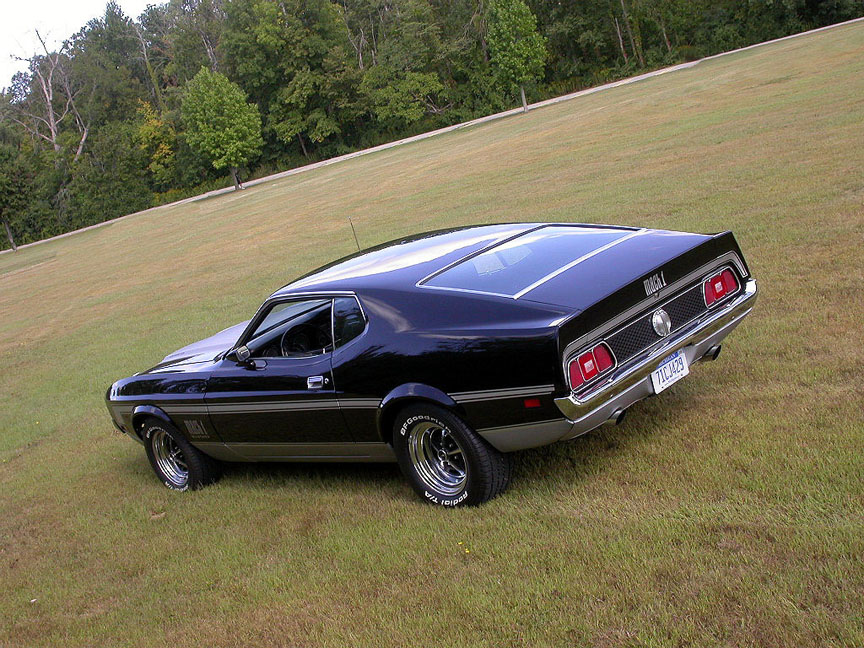 Note: These are thumbnails of the photos of the slideshow above. Please click to see a large version (larger than those in slideshow).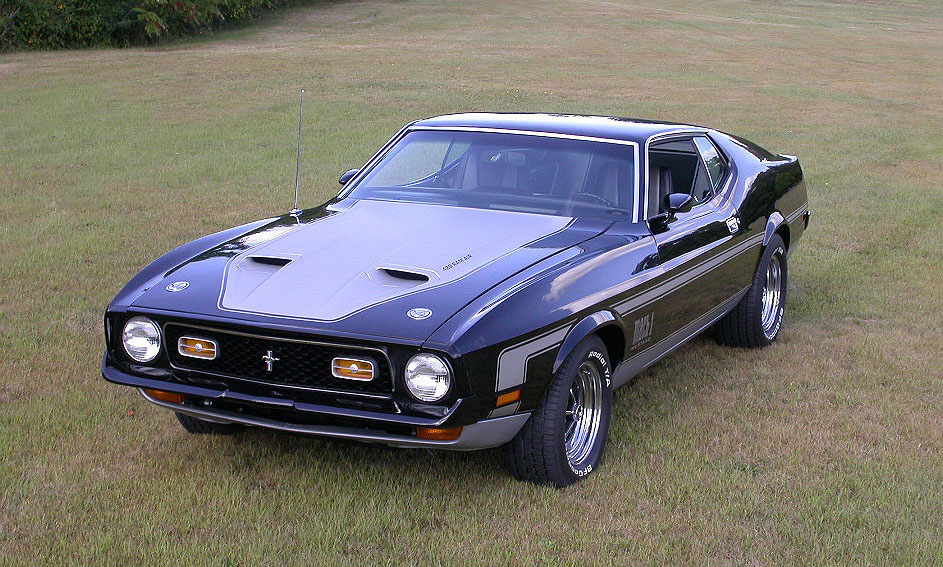 Finally - the dream becomes a reality. Congratulations, Mark!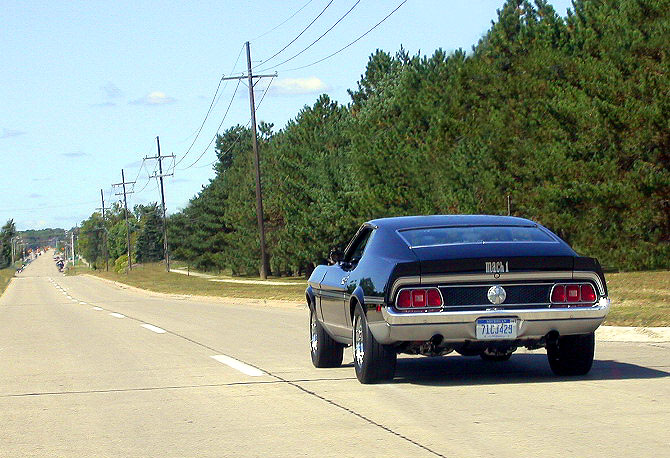 *******************************************************************************************

Update on Mark Bondy's Car 03/07/08
As you can see from the previous entries on this page, we have been following the restoration of Mark Bondy's car for 4 years now. Below are the latest pix.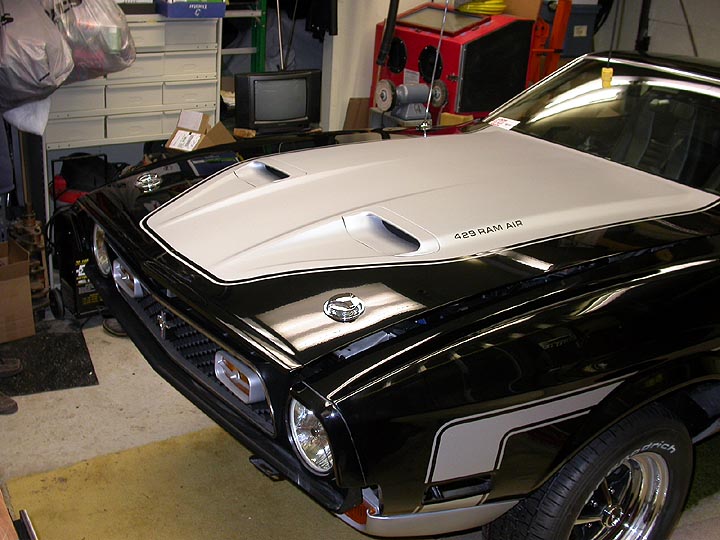 *************************************************************************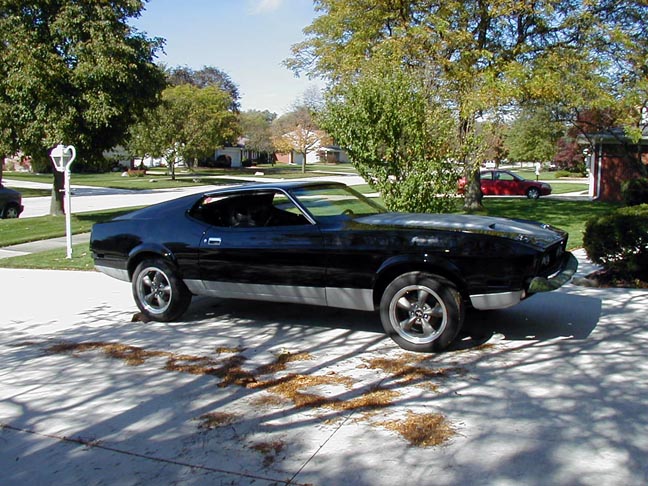 Update on Mark Bondy's Car 11/04/06
The engine is in the car but is not ready to fire up yet. The trans is done and detailed and just needs trans lines and the shifter hooked up. I have put the correct housing in the rear end and it has a 4.10 in it instead of the original 3.25 (it's put away in the original n case). I rebuilt the engine with forged pistons and a crane hydraulic cam with specs real close to the SCJ cam. The short block has been blue printed and balanced. I am using a super cobra jet intake and the marine 780 that I had modified to duplicate the original SCJ carb (I have the correct Rochester and intake but have not found a kickdown that will work). The car is painted, but I need to repaint the right front fender as it was damaged in the trailer coming home from painting it last January. I am currently working on wiring issues and trying to find original stuff that is missing (or screwed up beyond all repair) and finding trim parts for the interior. The windshield has been installed and the ram air is installed on the hood (original plenum....repop flappers for now). Also, new fuel tank and lines, new brakes and suspension and steering are installed. I have a long way to go but I thought you would be interested in the update.
Mark Bondy
Update on Mark Bondy's Car 1/1/05
Mark provided me these photos to show the current status of his restoration.
Mark Bondy's 429 Restoration Story
This car was found through a conversation my son had with a guy visiting National Parts Depot in Livonia. He told my son that he had an original 429 Cobra Jet Mach 1 that he wanted to sell but it was in rough shape and disassembled. He gave my son his business card and my son brought it home and told me about it. I was skeptical to say the least and figured it would not be one of the original cars… probably one that someone had converted. I left it in my drawer for about a month. My son kept bugging me to go look at it. I finally called the guy. He gave me the VIN number over the phone and I knew I had to go look at it.
I ended up driving out to the Livingston County airport by Howell, Michigan, about an hour west of Livonia, an eastern suburb of Detroit. It was in an airplane hanger with car parts (GM, Ford, etc.), furniture, video arcade games and airplane parts. It was piled up about 4 feet high everywhere in an area about 50 by 40 feet. When I verified the VIN number info, I agreed to buy the car and whatever parts I could find in the mess and also a parts car. I must admit I got it cheap but I wasn't sure what I would find.
The car was just a shell that had been stripped to bare metal about 10 years before and had set in the airplane hanger for work to progress. It had surface rusted everywhere in addition to some structural rust. They had cut the roof skin off because it had a crease in it!!!!! And they had drilled the spot welds out and removed the cowl to repair rust from animal nests that had been built when the car had sat outside before the current owner bought it.
I ended up using an enclosed car trailer and two pickups to make two trips to retrieve all the stuff I thought went with the car. The original block was with the car (cracked in 2 places), original trans, drive shaft, rear end, no carb, correct intake and exhaust manifolds and rear end. Many of the internal engine parts were scrap. It seemed like everything was rusty, incorrect etc. No ram air stuff at all!!
When I got the junk home I hid the parts car at my brother's cottage 150 miles up in the thumb of Michigan. It was a rusted out hulk from sitting out in a field for along time. My brother disassembled it (and threw out the vast majority of it) and brought the useable parts (including the roof) back to me. I sent the CJ body to a stripper company in Toledo, Ohio where they stripped parts using DC current and an alkaline solution. It is FAA approved for aircraft parts as there is no loss of base metal - only the rust is removed. The car was brought back and all of the structural rust was repaired on a rotisserie. It was then sent to an E-coat priming company up by Flint, Michigan where it was metal conditioned and submerged E-coat primed and baked dry before it was shipped home.
After I got it home I prepped the roof area. I had sent the roof that my brother had cut off the parts car out and had it stripped and E-coated while I was working on the rust. I cut the 260+ spot welds out of the roof skin and welded it on to the body. I have been working this winter on getting any cosmetic rust holes repaired by welding new metal in and leading the areas. The pictures below were taken when I was turning the car around during a break in the winter weather so I could begin to work on fitting up front sheet metal. PROGRESS IS SLOWWWW!!! It seems. I have been locating correct parts as I can but money is tight and you all know the rest of that story! That's it as of the end of February 04.
Mark Bondy
| | | | |
| --- | --- | --- | --- |
| | | | Mark has his custom 429 CJ plate ready and waiting. |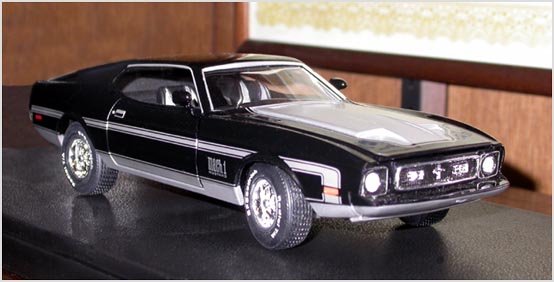 This model shows what Mark's car will look like when the resto is complete!
(I'll update this page with additional photos in the future as Mark progresses on his restoration. John Blair ~ 3/14/04)