Home
About This Site
Air Cleaners
Audio
Carburetors
Charging System
Chassis
Cooling System
Decoding
Detailing Center
Diecast Cars
Differential
Documentation
Driveshaft
Engine Bay Detail
Engine Brackets
Engine - External
Engine - Internal
Engine Tags
Exhaust
Exterior
Favorite Links
Fuel System
Gallery 1
Gallery 2
Gallery 3
Gallery 4
Gallery 5
Gallery 6
Gallery 7
Gallery 8
Gallery 9
Gallery 10
Gallery 11
Gallery 12
Gallery 14
Gallery 15
Gallery 16
Gallery - Photos from For Sale Ads
Heater & A/C
Ignition
Interior
Junkyard Cars
Memorabilia
Mustang Monthly Article Index
Oil Cooler
Paint Info
Parts Sources
Performance Data
Photography
Pulleys/Belts
Registry 71 429 Cougar
Registry 71 429 Mustang
Smog/Emissions
Special Topic
Special Topics 2
Starting System
Statistics
Steering
Suspension
Tech Writeup Index
Transmission
T-Shirts
Trunk
Underhood Component Coatings
Videos
Vintage Ads
Under Hood Non Engine Components
Wheels/Tires
Index
(Note: Click thumbnails to enlarge pictures.)
---
RAM AIR SYSTEM INFORMATION

Click this Link for the Photos on Ford Ram Air.com reproduction Ram Air Seal: Repro Ram Air Seal Page

Above is the ram air air cleaner used on the 429 CJ and SCJ Mustang. The MPC shows two different parts numbers - one for the CJ ram air air cleaner and one for the SCJ.

This is due to a difference in the design of the anti-rotation tabs which were unique to the Holley (for SCJ) and Rochestor (for CJ) carburetors as shown in the photo above. Research is currently underway to see if any dimensional differences exist.

The photo above left, for comparative purposes, shows the type of ram air air cleaner used on the 351 Cleveland in a 71 - 73 Mustang. At center, an A to B comparison of 351C to 429 CJ/SCJ ram air air cleaner (side view). At right, a top view of 429 CJ/SCJ to 351C type. Notice how on the 429 air cleaner, the rubber seal is concentric to the housing whereas on the 351 version, the seal is offset from the housing.

The drawing above details the components of the 429 CJ/SCJ ram air air cleaner to the 351C version.

Ram Air Hood Rear Edge Blackout

This photo shows the black paint applied by the factory to the rear edge of light colored 71 Mustang hoods. (original and restored pics shown)


429 MUSTANG RAM AIR SYSTEM


Note that the 429 Mustang Ram Air Air cleaner came from the factory with no decals.

Ram Air Assembly Details

Note the silver zinc coating on the vacuum actuators and the dichromate coating on the vacuum hose bracket. Correct hose routing and vacuum hose markings and T are also shown. (Thanks to Thiago Muneratto for these excellent photos)

Ram Air Hose

It is believed that the original factory ram air hose was marked with a series of blue "x"s as shown on the reproduction sample above. We would like to find an original sample to confirm this.


.

Vacuum Actuated Flapper

Plenum

Plenum and Flappers

429 Ram Air Air Cleaner (Top View)

429 Ram Air Air Cleaner (Side View)

Snorkel Details

Snorkel Underside with Part Number




71 429 Mustang Snorkel

To be sure you have a correct snorkel, make sure the flange end looks like our example with the snorkel attachment holes centered vertically on the flange with a recess present. Other snorkel versions can look very similar but are not the factory correct version for the 71 429 CJ/SCJ Mustang. Check out Tom Cherry's Snorkel Identification Page for more details.


Ram Air Seal

Note that the correct seal for the 429 Mustang has 3 raised ribs along the top as shown below.

Seal & Lid

Note that the correct 429 Ram Air lid is flat (not dimpled in) in the area shown by the red arrows.

Artist's rendering of ram air ducting above and diagram showing expanded view with all components below.

Air Cleaner Center Section (around carb) Paint Scheme

Based on the two most original 71 429 SCJ Mustangs in our group, it appears that the "hump" around the carburetor was painted flat black as shown on John McMasters (L) and Fred Coyner's (R) extremely original (less than 20,000 miles) cars. The underside of the lid was painted Ford blue like the rest of the air cleaner.

429 MUSTANG C - CODE AIR CLEANER




Above and below are installed views of the 429 Mustang non ram air (C-Code) air cleaner.

About that Decal on the lid...

We have been trying to confirm 1) Whether there was decal on the chrome lid from the factory and 2) If there was a decal, did it say "Cobra" of "Cobra Jet". Recently, we heard from an original C Code owner who told us his did, in fact, come with a decal on the chrome lid and it said "Cobra Jet".

Where things stand...
Based on the small amount of info we have received to date, it appears that the 71 429 Mustang Air Cleaner decal may have said "429 Cobra Jet", however, when reviewing old air cleaner lids, it just isn't possible to tell if an old decal is original or not, we can't be certain, so the "429 Cobra" decal could have been used - we just don't know. One suggestion we received was that the "429 Cobra" decal could have come from a Torino application - not sure. With all the old decals out there, we may never know for sure. Research will continue.





The photos above and below show detailed views of the C-code (non-ram air versions) of chrome lid air cleaners with the "Cobra Jet" decal submitted by Megasite readers.

Below is a "barn find" 71 429 CJ Mach 1 (built 4/71) with a "429 Cobra" decal.

Note the vacuum door on the side of the air cleaner that opened to let in more air than what flowed through the snorkel. It worked the same as the ram air flapper doors on the hood. The actuator is shown above. A diagram showing an expanded view of the entire assembly is shown below.


429 COUGAR RAM AIR SYSTEM




Cougar Air Cleaner

Cougar Flapper Lid (top)

Cougar Flapper Lid (bottom)

Cougar hood underside

Seal Locating Tab

Mercury Cougar
Air Cleaner Dimensions - for 71 429 Mustang ram air air cleaner
(note - ram air seal removed for photos)
Topside Dimensions
Underside Dimensions
Side Dimensions
Air Cleaner Filter Dimensions
(research courtesy of Dan Davis)

C-code, non-Drag Pack = Motorcraft FA50, 13.3" OD, 11.3" ID, 2.8" tall

J-code, non-Drag Pack = Motorcraft FA74, 13.3" OD, 11.3" ID, 2.5" tall

C-code, Drag Pack = Motorcraft FA41, 13.3" OD, 11.3" ID, 2.25" tall

J-code, Drag Pack = Motorcraft FA50, 13.3" OD, 11.3" ID, 2.8" tall
Air Cleaner Housing Part Numbers
(research courtesy of Dan Davis)

C-code, non-Drag Pack Mustang and Cougar = two possible: D1AF-9600-HA and D1AF-9600-HB (also fits 1971 Galaxie Police Car before 11/2/70)

J-code, non-Drag Pack Mustang = three possible: D1ZF-9600-FA, D1ZF-9600-FB and D1ZF-9600-FC

J-code, non-Drag Pack Cougar = three possible: D1WF-9600-AA, D1WF-9600-BA and D1WF-9600-BB (uses FA41 filter)

C-code, Drag Pack Mustang = two possible: D1AF-9600-DA and D1AF-9600-DB (Note says US only, but no listing for non-US models -- maybe were not sold outside of US or ?)

J-code, Drag Pack Mustang = three possible: D1ZF-9600-AA, D1ZF-9600-AB and D1ZF-9600-AC

Look-a-like Air Cleaners
There are several air cleaners that closely resemble the 429 Mustang Ram Air air cleaner, but are NOT correct for the 71 429 Mustang. Before buying, look closely at the details. Here are some similar versions to watch out for:
72 Montego Ram Air Air Cleaner




Another 72 Montego? We're not sure, but definitely not 429 Mustang/Cougar.
Shaker Base for Torino
Flat Bottom - 1970 429 SCJ Torino

1972 Torino Ram Air Air Cleaner (note: seal missing on photo at left)
Air Cleaner Hose Routing, Tubing, Misc.

The photo above shows the attachment points of the Charcoal Canister and Valve Cover Air Filter Hoses.
Valve Cover Air Filter Hose
Note the stripe and Autolite logo on this original 429 Mustang hose.
OEM Air Filter
The photos above show an example of an Autolite Air Filter housing that attached to the air cleaner with a clip. The nipple on the filter snapped onto the rubber EGR hose from the passenger side valve cover. The two lower photos are to show where the filter housing was installed (note the black version in the example photo is an aftermarket air filter housing)



Paper Tubing - Charcoal Canister
This is the paper tubing that ran from the passenger side of the air cleaner to the charcoal canister. Up to a few years ago, it was still available from Ford under the D4ZZ part number shown above, but as of 2008, it is no longer available. This is now a difficult item to find.


Hot Air Tube
The Hot Air Tube connects the exhaust manifold heat shield to the air cleaner snorkel. This paper tube is still available from Ford under part # C9UZ-9652-A.


Hot Air Tube Clamp
This is the clamp used to secure the Hot Air Tube to the snorkel as shown above. This example is yellow dichromate - the original was silver in color with zinc dichromate plating.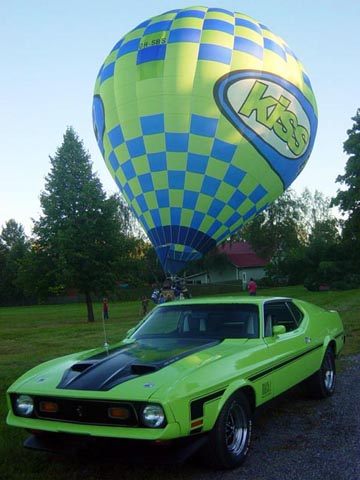 Tim Hermanson's 429 CJ Mach 1