---
429 Mustang/Cougar T-Shirts!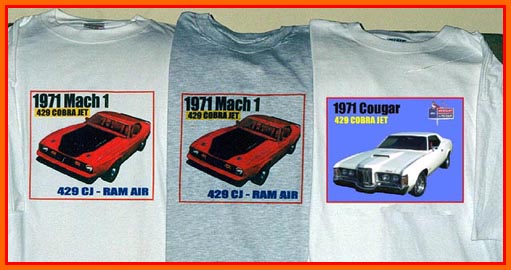 429 Mustang or Cougar T-Shirts are rarer than hen's teeth, so we decided to create some designs you can use to make your own! It's easy - pick out the design you want from the chart below. Then go to your local office supply store and buy an iron-on transfer kit which allows you to print out a picture onto transfer paper (there are many suppliers for these kits - HP makes a good one). Follow the directions in the kit to transfer the reverse image of your choice onto a new, unwashed T-shirt.
Alternately, you can also just print out the reverse image of your choice onto regular 8.5 x 11 paper and take it to your local copy store (I used "Kinkos*"). They will use a color copier to put the image onto their own transfer paper and they have a special press to place the image onto your T-Shirt. This cost me $10 to make each shirt (see the ones shown at the top of this page).
| | |
| --- | --- |
| Click thumbnail images below to enlarge and choose the one you want. | Click to enlarge, then print out this Reverse Image to use on transfer paper for your T- Shirt |
| 429 SCJ-R Mustang | |
| 429 CJ-R Cougar | |
| 429 CJ Mustang | |
| 429 CJ-R Mustang | |
* Call your local copy store to check on capability to do this and prices.
Hints:
Make sure you use the REVERSE images in the right column above for the transfer paper. Once transferred, it will become the correct image.

The kits all use 8.5" x 11" paper, so use your printer setup to enlarge the reverse image to fill the canvas of 8.5" x 11" paper to give you the largest image possible for your shirt.

In your printer setup, be sure you have the print out orientation set to "Landscape", not "Portrait". Again, this is to make sure you get the largest image possible for your 8.5" x 11" transfer paper.

Wash your completed T-shirt on the cold wash cycle and hang it to dry. If you avoid heat in the washer and drier, your 429 T-Shirt should stay looking good for a long time!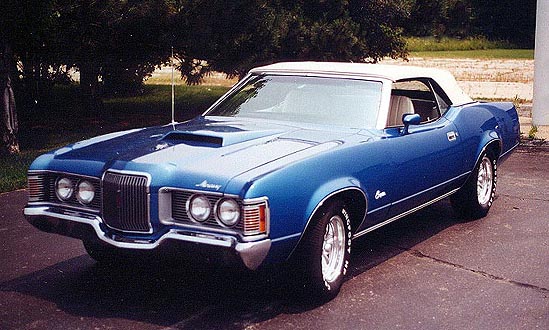 Tom Shively's 429 CJ Cougar Convertible