Home
About This Site
Air Cleaners
Audio
Carburetors
Charging System
Chassis
Cooling System
Decoding
Detailing Center
Diecast Cars
Differential
Documentation
Driveshaft
Engine Bay Detail
Engine Brackets
Engine - External
Engine - Internal
Engine Tags
Exhaust
Exterior
Favorite Links
Fuel System
Gallery 1
Gallery 2
Gallery 3
Gallery 4
Gallery 5
Gallery 6
Gallery 7
Gallery 8
Gallery 9
Gallery 10
Gallery 11
Gallery 12
Gallery 14
Gallery 15
Gallery 16
Gallery - Photos from For Sale Ads
Heater & A/C
Ignition
Interior
Junkyard Cars
Memorabilia
Mustang Monthly Article Index
Oil Cooler
Paint Info
Parts Sources
Performance Data
Photography
Pulleys/Belts
Registry 71 429 Cougar
Registry 71 429 Mustang
Smog/Emissions
Special Topic
Special Topics 2
Starting System
Statistics
Steering
Suspension
Tech Writeup Index
Transmission
T-Shirts
Trunk
Underhood Component Coatings
Videos
Vintage Ads
Under Hood Non Engine Components
Wheels/Tires
Index
---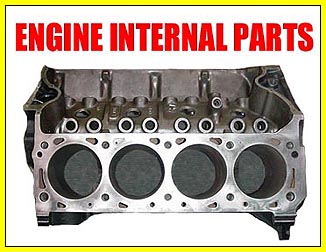 This page shows details of the 429 CJ/SCJ Heads, Block, internal components and some specialty 429 parts.
(Note: Click thumbnails to enlarge pictures.)
---
429 CJ/SCJ Cylinder Head and Components

See this link for Dan Davis's writeup: Valve Lash Made Easy

The 429 CJ/SCJ head was Part #D0OE-6090-R. This photo shows a view of the combustion chambers.

Top Side

Intake Side

Port Comparison

Exhaust Port Closeup

Intake Port Close

Combustion Chamber

Spring Seat Area

Exhaust/Intake Valve comparison

1.73" Exhaust

2.24" Intake

Valve Spring

Rocker Arms

The early (until start of calendar year 1970) CJ's used an adjustable valvetrain like the SCJs. These engines used a prevailing-torque nut (aka "lock" nut).

The later CJs used a bottleneck stud that was tightened to a specific torque -- i.e., no adjustment. There were no jamb nuts used on a factory install for either CJ or SCJ.

Head Part #

Head Part # Location

Date Code

Exhaust Bowl

For more information on 429 Cylinder Heads, click the link to this site:

429/460 Cylinder Head Casting #'s /Application Information /Brief Descriptions
429 CJ/SCJ Blocks

The Four Types of 429s
(Thanks to Dan Davis)

First was the base 429, known as the Thunder Jet (TJ). It came in T-birds and full size Fords in the late 60's and early 70's. Typically 360 horsepower. By far and away the most common -- they made 100,000+ of these. Can be ID'd be block casting numbers of C8SE, C9VE, D0VE, D1VE among others and head casting numbers of C8SE, C9VE, D0VE among others.

Then there was the 429 Cobra Jet (CJ). It was built only in 1970-71. It was only installed in mid-size (1970-71) and pony cars (1971 only). 370 HP (likely underrated), thick strong blocks and massive ports int he heads. ID'd by D0VE-A and D1VE-AA casting numbers on the block and D0OE-R on the heads. No other numbers are CJ. Not too common, maybe a total production of 15,000.

The 429 SCJ was a stronger version on the CJ. The difference was forged pistons, solid lifter cam and four bolt mains*. The rest of the info is the same. Even less common with a production of maybe 3,000.

The baddest of them all is the Boss 429. It was rated at 375HP (grossly underrated). It came in special Mustangs (and 2 Cougars) in 1969-70. It had four bolt mains, aluminum hemi-style heads and looked like no other engine. ID by casting number on the block of C9AE. The heads ID themselves. Very rare and very expensive as only about 1,200 were made.

(* Correct for 429 SCJ Torino. On 71 429 SCJ Mustang, both 2 and 4 bolt mains were possible - JB)

429 CJ/SCJ Blocks

D0VE-A 4 Bolt Main Block

D1VE-6015-AA 4 Bolt Main Block

About Block Part Numbers

CJ/SCJ Blocks

Correct 429 CJ/SCJ Block Casting Numbers

The red arrow above left indicates the location of the 429 CJ/SCJ engine block casting number. A closeup is shown at center of the D0VE-A and the D1VE-6015-AA at right. The 429 CJ/SCJ engines used in the 71 Mustang/Cougar had either a D0VE-A or a D1VE-6015-AA block. But here's a special note about the D1VE block part numbers - CJ/SCJ D1VE blocks have the "D1VE-6015-AA" casting number while base blocks have only a "D1VE-AA" casting number without the -6015- in the middle. This appears to be a screw-up by the factory! D1VE-6015-AA is supposed be a CJ block (since we have seen more as CJ than non-CJ), but due to the info we have uncovered (click this thumbnail photo: ), its best to verify first if the block is a thin or thick web before deciding if it is a CJ. See the two photos below for examples of this;

429 CJ/SCJ Main Bearing Webs

In addition to the casting numbers, CJ/SCJ blocks were signified by having thicker main bearing webs than the standard 429 blocks. Note in the photo below how the webs on the CJ/SCJ block (left) get thicker, stepping from 1" to 1.4" near the intersection of the web to the sidewall while the base 429 block webs are noticeably narrower;

Also note that the CJ/SCJ webs are taller and machined to the same height as the oil pan rail. By contrast, main bearing webs on the base 429 (Thunder Jet) block at right get thinner as they meet the sidewall and are not as tall as their CJ/SCJ counterparts. Instead they are as cast and end below the oil pan rail.

Two -vs- Four Bolt Mains

Since the two or four bolt caps were added after the block was cast, the casting number WILL NOT tell you if it is a two or four bolt main block. What it WILL tell you is that the block has thick main webs, making it a CJ/SCJ block (PI too).

(Thanks to Dan Davis for this info and photos)
Pistons

Pistons
The cast 429 Cobra Jet pistons were marked with the "429 CJ" as shown above. The 429 SCJ used forged pistons from TRW and were marked with the TRW #L2366F stamped on the top surface.
Rods
Rods
These are 429 CJ rods. The photo at right shows the special type of machining around the bolt head done to the DOOE (CJ) rods, which helped make them a little stronger.
Intake Manifolds

The photo above shows the CJ Intake with the Rochestor Carburetor spreadbore pattern. The photo at right is the underside. The part number is D0OE-9425-D.

This is the SCJ Intake with the Holley Carburetor pattern. Part number D0OE-9425-C




Intake Mamifold Gaskets

Note that there is a big difference between the CJ and standard 429/460 Intake gaskets. A problem to watch out for is when you call the parts store (and even specify it must be a CJ gasket) they still often send the standard 429/460. Group member Allan Shepley has talked to two different people recently that have installed the wrong gaskets and the engine still ran but there was a vacuum leak. Be sure to check your gaskets with your intake port dimensions before installing! Note that in photo above, the standard gasket is shown on top and the CJ version on the bottom.

Timing Chain/Cover/Lifter Valley

The Timing Cover and part number.


Installed view of Timing Chain.

Top View of engine showing heads installed and lifter valley.
Oil Pan/Pump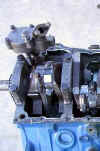 Oil Pan/Pump Pickup
Check out this link for our study on oil pan depths: Oil Pan Depth Survey
The CJ/SCJ used a special pump. It was called the "dual entry pump". Where the oil entered the pump's gear, there where actually two entrances to the gear. The 429 CJ/SCJ pick up is also shown above. Be cautious when installing aftermarket oil pumps/new pick up tubes or sumps on your 429 CJ/SCJ engine. Some have been found to be too long and touched the bottom of the pan, resulting in blockage of oil flow and possible engine failure! If you install a new pump and pick up check it out first. Also, be aware that the CJ pump and CJ pickup were longer than the stock 429 part and should only be used with a CJ pan.
The CJ/SCJ oil pan photo at top right shows the configuration of the special baffle used. The photo below details the oil flow path within the pump.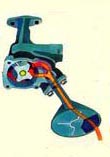 Special Engine Components


"SHELBY" Aluminum Manifold
This is a rare aluminum intake manifold available as an aftermarket part in the 70's for the 429 CJ/SCJ engine. It seems like these are turning up on E-Bay every so often and we have had a number of questions about whether this manifold will fit on a 429 Mustang. Since it is about 1" taller, it will not clear the hood of a 71 429 Mustang with the factory ram air air cleaner installed. However, Robert Myhrer has researched this matter and has found a solution. Please click this link to see his special write-up on this topic:
How To Make an Aluminum Shelby/Blue Thunder Intake Manifold Fit on a 71 429 Mustang with a Factory Ram Air Air Cleaner



Police Interceptor Intake Manifold?
This is a strange version of the CJ intake manifold. The MPC lists this D1AE-BA manifold as the intake for the 71 429 CJ. Note it's spaced for a Ford carburetor, not the Rochester (which is what it should be if it were for a 429 CJ)! Maybe you were supposed to do some grinding to get the Rochester to fit? It is believed that this is the intake that the 72 P/I (Police Interceptor) engine used since the 72 P/I did use a Ford carburetor.


429 Dual Quad aluminum intake


429 Tripower Setup

These 429 valve covers are aftermarket parts, but are an interesting detail piece for those not wanting to use the factory aluminum valve covers.
Police Interceptor Parts
Since Police Interceptor parts are often confused with the 429 CJ/SCJ, photos of 429 PI components will be shown above for reference. The D2OE 1972 PI Exhaust manifolds are shown above right. For additional information on Police Interceptor Heads, try this link: Police Interceptor Heads
Mike Troell's 429 CJ Mach 1 at the Concours D'Elegance in Canada